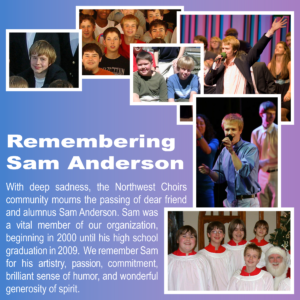 Sam was everybody's friend. He was exactly the kind of person you need in any team activity. He was focused, hardworking, and cared deeply about the choirs. He also brought joy to our endeavors. His quick wit kept us on our toes, and always made us laugh. Sam was an excellent young musician, not just in Boychoir and Vocalpoint, but beyond. He played piano and guitar, and delighted in song writing. He had a boundless curiosity for music, and immersed himself in that world. Among his many other talents, Sam was also a writer, a poet, and a chef.
Celebration of Life
A Celebration of Sam's Life will be held from 11 am to 2 pm on Sunday, Dec. 3 at AQUA by El Gaucho on Seattle's waterfront. Choir families are invited to attend and to share memories and stories of their time with Sam. AQUA by El Gaucho is located at 2801 Alaskan Way, Seattle 98121.
Memorial Sculpture
As a lasting memorial to Sam, a sculpture has been commissioned and will be permanently housed in the Performing Choir rehearsal room. In his writings, Sam worked with motifs of birds, freedom, and flight. These themes will inspire the commissioned artwork, titled I Sang Before I Spoke, a line from Sam's poem, "The Year of Jubilee." Sculpture artist Leah Aegerter, also a graduate of Vocalpoint! Seattle, will produce the sculpture.
Donations to Sam's memorial may be made by check (payable to the Northwest Choirs) or by using the Choir's online donation page. Click Here
Please include a notation that your contribution is dedicated to "Sam Anderson's Memorial." Funds raised in excess of the cost of the sculpture will be donated to the Scholarship Fund or another fund in accordance with the family's wishes.